Retro Meets Modern Technology: The Green Power
WIZMAN x CYCLOID
Green Power Magnetic Power Bank
Cyber Retro Aesthetics

Fast Charging & Build-in Cable

Precise Magnetic Attraction

Smart Pixel Screen Display

Fun Features and Games

Multiple Ports and Lightning Input
42 USD - Limited early birds on indiegogo
The H1 GREEN POWER magnetic power bank draws inspiration from aircraft landing pads, utilizing a built-in super-strong magnet to ensure perfect alignment and efficient charging.
The power bank also includes a smart pixel screen with a pixel game style design, which displays multiple charging parameters and three casual games that can be operated using physical buttons.
It comes with a built-in Apple/Android fast charging cable and also supports multiple ports, even Lightning input as well.
With a 10000mah capacity, you'll have enough power to charge your devices multiple times over. The Cyber Retro Aesthetics design is not only stylish, but it's also practical, making it easy to carry around wherever you go.


Strong Attachment
Charge in a Snap
Equipped with ultra-strong magnets that firmly attach to the back of the iPhone 14/13/12. Align your iPhone and battery with a snap. No more disconnection issues caused by wireless charging misalignment.(Support up to 15W wireless fast charging*)




Built-in Charging Cable
It's all about fast and convenient
Green Power comes with a hidden charging cable, which offers two options:
Lightning/Type-C, both supporting PD20W fast charging.
No need to carry an extra charging cable, now you can charge your devices anytime, anywhere.
Retro Style Smart Digital Display
Power bank status at a glance
All the data is visible on the screen: device status,
current power, voltage, electric current,
charging/discharging status, remaining power,
remaining charging time (power bank self-charging).
Fun Features and Games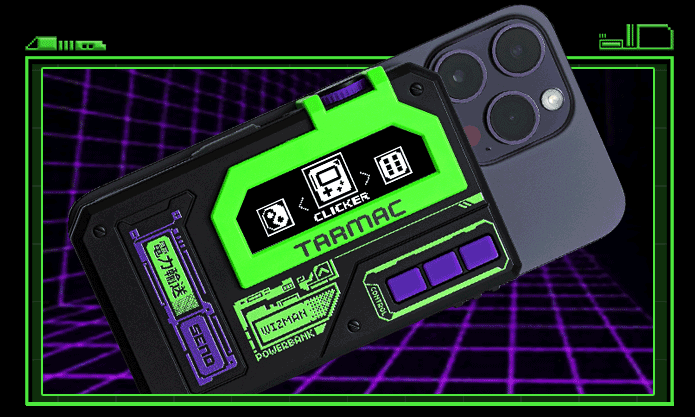 Clicker: WIZMAN special version of the whack-a-mole game.
Divination: Use the 64 hexagrams to check your fortune.
Roll the dice: You can play with one, three or five dice.
Wave goodbye to dull charging sessions, Green Power lets you recharge and have fun at the same time.
Support multiple ports and lightning input
iPhone users can travel with just one charging cable.
USB-A : output only, which meets most needs, the output can reach up to 22.5W.
TYPE-C : supports both input and output, the output can reach up to 20W.
Lightning : Support Apple cable to charge power bank.
3 charging modes, Switch as you like.
Built-in fast charging cable
External cable charging
Wireless charging
Multiple output methods, solve your low battery crisis.
More options, more convenience.
High-Speed Charging
Power up your phone 3x faster than an original 5W.
Charge an iPhone 13 to 50% in just 30 minutes!
Recharge is also faster:A full recharge of the power bank only takes 3.5 hours via a 20W high-speed charger.
High Quality and Superior Protection
Designed to provide the best charging experience
Equipped with long-lasting premium batteries and safety system to avoid overheating and keep you and your devices safe.
Outer material: PC+ABS material, flame retardant
Inner material: high-density lithium polymer battery
Smart screen: durable LCD screen